As a mum of two healthy and happy babies, it's assumed that I know what the heck I'm doing. Let's clear this up now – I don't! In fact, I over analyse everything I did from conception to weaning and wish that I had done things differently.
LABOUR
In hindsight, I didn't have a clue what I was doing. I am STILL on a waiting list for ante-natal classes (2 years post-partum). So I really went into it all blind! 
Second time around the only thing I was certain about was not wanting to be induced. I shall spare you all the details of my births (may be for another post…), but in a nutshell I had two very crappy experiences that left me full of fear to do it again (yes, I want to do it again – am I crazy?!).
All of this has led me to look into hypnobirthing. It comes highly recommended by tons of women, one being a favourite of mine Giovanna Fletcher in her new book 'Happy Mum , Happy Baby' – I implore you all to read this here:
"Hypnobirthing allows you to experience birth in an atmosphere of calm relaxation, free of the fear and tension that prevents the birthing muscles of your body from functioning as Nature intended them to." http://hypnobirthing.co.uk/what-is-hypnobirthing/
I am now most definitely a 'believer' in the hypnobirthing method. One of my clearest memories of both labours – especially my second – was how out of control I felt. The main aim of hypnobirthing is to teach women how to remain in control through labour.
So, it's definitely worth a go!
Who doesn't love a bit of Ross & Rachel?
BREASTFEEDING
This topic evokes so many emotions and opinions which I really don't want to go into. However, I do want to touch upon the issues many women, including myself have encountered whilst breastfeeding.
I always took it for granted that both me and my baby would know what we were doing. Little did I know that we would have 6 weeks of latching issues, expressing, nipple shields, bleeding nipples and formula guilt ahead of us.
With my second baby I thought I'd learnt from the first and had a plan in place. How foolish was I? It was even harder with baby no.2. It took longer to establish any sort of latch, he absolutely refused the breast, then when he finally took to the breast (after 8 weeks!) he refused the bottle. I just felt like I couldn't win.
Our problems were exacerbated by baby's dairy & soya allergy. I was actually told by a 'breastfeeding expert' to give up because baby was never going to get it. Needless to say I was left confused and defeated.
We muddled through with breast and formula until both baby's were 7 months.
I have since discovered Supplemental Nursing.
"A supplemental nursing system incorporates a container of milk connected to a length of flexible feeding tube. The free end of the tube is held or taped to run alongside mother's nipple so that her baby takes the tube and nipple together in his mouth when he latches. Alternatively the tube can be inserted in the corner of his mouth part way through the feed after the breast has been emptied. While the baby breastfeeds, he also gets supplemental milk fed to him via the small tube." http://breastfeeding.support/supplemental-nursing-system/
If you, like a lot of us are, on a budget then check out Charly Skoppek's Facebook page Mama Loves Nursing – Supplemental Nursing. Charly has created an affordable SNS after struggling to feed her own baby.
Using a SNS would have enabled me to feed baby from the breast whilst topping up with expressed milk.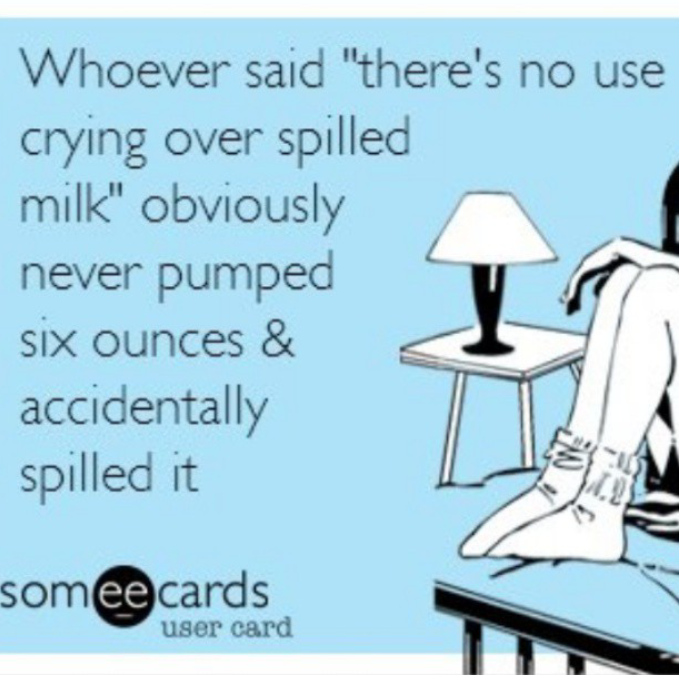 So chuffing true!
A SNS is now one of 'must haves' if I ever find myself breastfeeding again!
WEANING
Finally, I want to talk about weaning.
I sought advice about weaning from close friends who I greatly admire and respect, I also did a little research and decided that pureed food would work for us. It also satisfied my need to organise and plan. I could follow a very precise list of foods to try and when to try them. I knew how much actually made it into their mouths and could plan ahead by batch cooking and freezing. This worked really well with my first, so I just assumed it would also work with my second. Oh, how wrong was I?
Baby no.2 had severe reflux, milk rarely stayed down, obviously puree would have a similar effect.
I didn't really know much about Baby Led Weaning and at the time I was encouraged to keep going as I was by various medical professionals.
In hindsight (what a wonderful thing – not!) BLW would have been a better way to go. Also after some research it seems to be a more relaxed and freeing way of introducing food to your baby.
BLW gives babies the chance to explore foods for themselves. It means they can cope with different food textures from the beginning of weaning.
http://www.babycentre.co.uk/a1007100/baby-led-weaning#ixzz4dDW2gcLy
Putting my obsessive need to plan, organise and clean aside – I really want to give BLW a go if I can.
THE END IS IN SIGHT…
Ultimately all of this pointless. By that I mean, regret.
Sure, I do wish my birth experiences were positive and empowering but the end result was a healthy baby and I certainly don't regret that.
My breastfeeding experiences could have been easier and I could have been better informed. On the other hand, I did myself damn proud to persevere with expressing and continually trying to establish a latch. I then went on to provide both babies with 7 months of the good stuff!
Weaning comes in many forms with a never ending list of do's & don'ts, but I succeeded at introducing all sorts of healthy and natural foods to babies 1 & 2. They are both (mostly) good eaters who love fruit & veg (almost) as much as chocolate!
I did however, really enjoy researching these three topics and will implement all of them if I do have any more babies.
G x